October 19, 2019 will be a Chili Cookoff/Halloween Party/Game Night all rolled into one super fun evening beginning at 5:00 p.m. Contact Nick Battaglia if you wish to enter chili in the cookoff. Adults and kids can wear costumes. There will be candy for the kids and a prize for the winning chili. Please bring a dessert to share if possible! See you there!!!!
Emerald Green is located in the City of Warrenville. Some resources to learn more about what's going on in town include: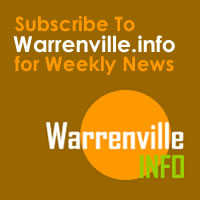 Get Warrenville News Delivered to Your Inbox
Warrenville.info is a website to learn what's going on in Warrenville. It's a blog and calendar about Warrenville and vicinity. If you subscribe, you'll receive one email each week, "This Week in Warrenville" containing events in and around Warrenville.

Click Here to Subscribe -- It is Free, and your email address will be kept safe.