For more information, click on the latest newsletter.
October 19, Rec Board executive and public meeting
6:30 PM, Clubhouse
Any suggestions for parties or events are welcome. Submit ideas via email This email address is being protected from spambots. You need JavaScript enabled to view it.
October 23, Family Game Night and Chili Cookoff

6:00 PM, Clubhouse
October 30, Trunk or Treat 2-4 PM, prize for best decorated trunk or garage
Family party at Clubhouse following trunk or treat with games, costume contests, and movies
October Clubhouse Rentals:
Oct 24, Ramig, All Day
Oct 30, Cardiel, 8 AM to Noon
Oct 31, Ramig, All Day
Emerald Green is located in the City of Warrenville. Some resources to learn more about what's going on in town include: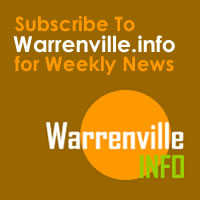 Get Warrenville News Delivered to Your Inbox
Warrenville.info is a website to learn what's going on in Warrenville. It's a blog and calendar about Warrenville and vicinity. If you subscribe, you'll receive one email each week, "This Week in Warrenville" containing events in and around Warrenville.

Click Here to Subscribe -- It is Free, and your email address will be kept safe.