The new doors have been installed, so please discard your old clubhouse key if you have one and only use your new passcard. This passcard is also to be used every time you go to the pool. When your card is scanned and a red light appears, that means something may be wrong with your account and you will need to get in touch with your villa or condo management company to work things out.
Please see a pool attendant if you have not yet picked up your passcard. You will be required to sign a form and you will also receive a list of rules for the clubhouse and pool.
Be aware there are security cameras installed at the pool and clubhouse. This is for everyone's protection and to protect the property. Thank you!
Emerald Green is located in the City of Warrenville. Some resources to learn more about what's going on in town include: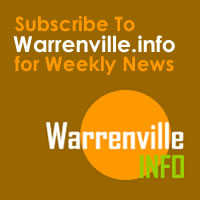 Get Warrenville News Delivered to Your Inbox
Warrenville.info is a website to learn what's going on in Warrenville. It's a blog and calendar about Warrenville and vicinity. If you subscribe, you'll receive one email each week, "This Week in Warrenville" containing events in and around Warrenville.

Click Here to Subscribe -- It is Free, and your email address will be kept safe.